This post contains affiliate links for your convenience. When you click on a link and make a purchase, a small commission may be paid to Gather & Grow which helps keep this ministry going. So thank you! Read my full disclosure here.
Photo via Lightstock
This Summer, my kids have taken their conflict to the next level. Maybe it's their age but they are fighting more now than ever. It would be easy to just leave them to beat each other up but I know this is my opportunity to teach them how to handle conflict at home so they can take helpful action steps with them into the world. I'm so thankful to have Jim and Lynne Jackson of Connected Families on the blog today with three amazing steps to helping kids resolve sibling conflict.
Find out more about the Connected Families Sibling Conflict Course by clicking

HERE

. Registration is now close but the course may be offered again.
My dear brothers and sisters, take note of this: Everyone should be quick to listen, slow to speak and slow to become angry, because human anger does not produce the righteousness that God desires. James 1:19-20
Three Principles to Resolve Sibling Conflict
The twin girls fight frequently. They have a close, but tense sibling relationship. Katie tends to be the dominant one, and often takes advantage of her sister Kallie. The nature of their fighting was taking a toll on their closeness, and their words and actions increased at a hurtful momentum.
Their frequent conflicts were getting more and more negative attention from their parents and another sibling. As I (Lynne) coached the mom and daughters, we came up with a fairly simple plan. It's so practical, I now share it as a tool for other parents. Keep reading to equip your own kids with a vision and some concrete conflict resolution ideas, whether with siblings, or with friends.
I printed three conflict resolution principles, each on a separate piece of cardstock:
COOL DOWN.

UNDERSTAND EACH OTHER.

FIND A WIN-WIN!
Then, with mom and kids together in the room, I briefly explained each principle and gave the kids some markers, inviting them to draw pictures of how they would act on each principle to solve future conflicts. If they'd been older kids, I'd have asked just for simple written statements to answer, "What could you do to accomplish each principle?"
Magic Markers to the Rescue!
By drawing pictures that fit the principles, the girls made concrete plans. For "COOL DOWN" Kallie drew a picture of herself reading and Katie drew one of herself playing with toys. For "UNDERSTAND EACH OTHER" the girls worked together to draw a picture of one person talking and one with really big ears listening. And for "FIND A WIN-WIN" they (together) drew a picture of them playing nicely. These drawings of their future success established a simple vision for getting along well.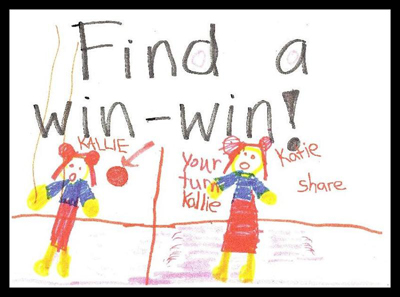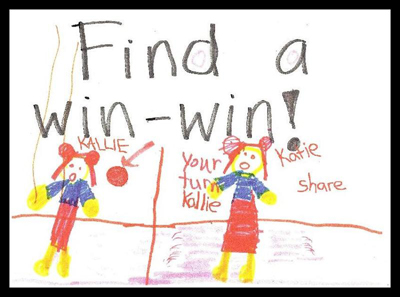 With these pictures in hand, we then discussed how Katie and Kallie's mom could facilitate (not control) the girls to complete the above steps, and truly learn to reconcile conflict. She came back the next week and said, "It's actually better! Not perfect, but we're making progress."
Key Questions and Biblical Context
Consider doing this with your own kids. Below are the principles, some basic questions to guide kids through, and some teaching from the Bible if you want to put the principles in Biblical context:
COOL DOWN
What's my best way to get calm? How have I settled down before?
In your anger do not sin;. . .search your hearts and be silent. Psalm 4:4
UNDERSTAND EACH OTHER
What did I feel? What did I want? What did my sibling (or friend) feel and want?
Be quick to listen, slow to speak. James 1:19

Speak the truth in love. Ephesians 4:15

Forgive one another as quickly and thoroughly as God in Christ forgave you. Ephesians 4:32
FIND A WIN-WIN
How have we solved this kind of thing before? How can we best solve this right now? How could we each feel honored and respected by the solution?
Agree with each other, love each other, be deep-spirited friends. Don't push your way to the front; don't sweet-talk your way to the top. Put yourself aside, and help others get ahead. Phil. 2:2-3 MSG
Now Try It!
Working on these skills helps a child to form an identity as a learner and a reconciler instead of as a troublemaker or aggressor. It helps parents and children alike become more accountable to constructive conflict resolution as they grow in confidence and experience. Try these principles, perhaps using these helpers:
Afterwards, tell us how it goes by leaving a comment below!
This post originally appeared on the Connected Families blog.
Want more support to help your kids handle conflict? Find out more about the Connected Families Sibling Conflict Course by clicking

HERE

. Registration is now closed but the course may be offered again!
Image created with PicMonkey